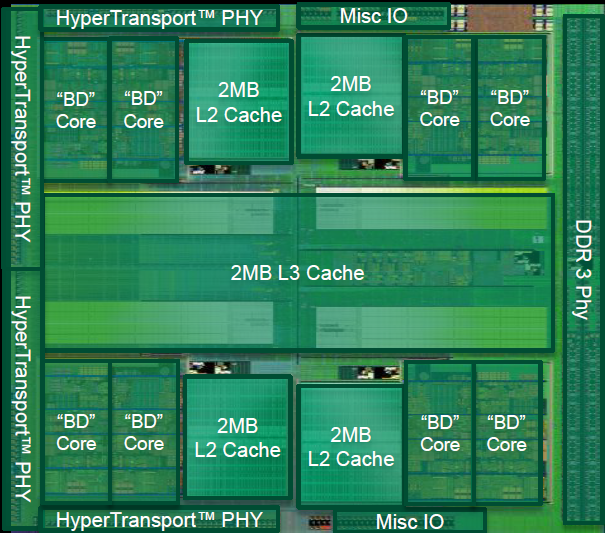 In this article we'll show you a detailed analysis of the performance of the AMD FX-8150, top of the range of proposals based on the new Bulldozer architecture. The tests provide a full suite of tests in which the CPU will be compared to other proposals of the market, either by default or at different frequencies. We will also consider the impact of memory on performance, and the consumption as a function of voltage.
Pagina 1 di 26
Overview
AMD, a brand known in the field of X86 processors, enters strongly in the market for processors in 1991, breaking up the monopoly of Intel chips with the AM386.With the Athlon 64 placed on the market in 2003, AMD becomes "the first company to create a desktop class 64-bit x86 processor". After that date, the overtake on Intel in performance becomes apparent with the Opteron series dedicated to the server and workstation, and in 2005 it produced the first dual core processor with integrated memory controller. Following it consolidates another successful, builds the first quad-core processor with the Athlon 64 X4. Another big jump is then with the acquisition of ATI brand in 2006.After various legal and economic problems with Intel, AMD introduces a new architecture completely redesigned from scratch, the Bulldozer architecture that characterizes the new FX series processors.
About a month and a half from the official launch of the new AMD FX, at which we presented a detailed architectural analysis, we are now going to sum up on this new architecture, after a series of extensive tests. We apologize to our readers for the delay in which this article was presented. The extensive suite of tests, the concomitant release of Intel's Sandy Bridge-E and the delay in sample delivery constitute the main reasons.
Although expectations were high for Bulldozer, for a month and a half after its release, it is now clear the atmosphere of disappointment, especially in the desktop segment. The competition in this segment with Intel puts AMD in a position of distinct disadvantage and Michael Silverman, a spokesman for AMD said that actually makes no sense to continue to pursue a direct challenge to Intel vs. AMD, preferring to pursue a differentiation, so to conquer market share that competition can not cover. In this perspective, the same Bulldozer architecture still makes sense, proposing effective solutions for the HPC market and cloud computing. We partly talked about in dedicated Opteron 6200 and 4200 solutions article, of which we recommend reading to those who have not already done so.
In this article we will focus, however, on the desktop version of Bulldozer and we will evaluate the FX-8150 as such, testing it with the software currently available. Probably these CPUs have still untapped potential, but until there is full implementation of the new instruction set proposed by AMD (mainly FMA4), with its code optimizations, the situation will reflect approximately the same tests performed on the following pages.
You can also read about it, reading our previous article on Bulldozer, where it is analyzed the architecture:
AMD Bulldozer at debut: architecture analysis